Spectator Healthcare Projects
06. January 2022
Spectator Healthcare Technology
New Partner
Cooperations
Spectator Blog
Healthcare
Dr. Abdul Rahman Al Mishari Hospital launches Spectator customized App as their ARMeCare App for diabetes, hypertensive and postnatal patients
To support and optimize the care of patients with diabetes, hypertension and postpartum support, the hospital is introducing the 'ARMeCare app.'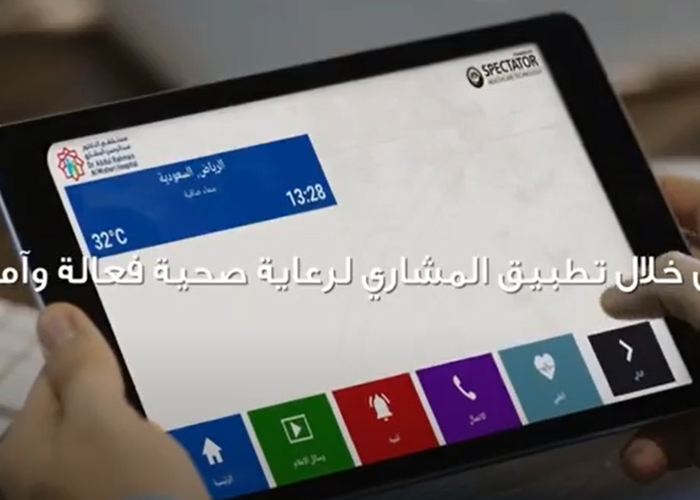 The app supports patients at home with information as well as monitoring at distance. With access to the ARMeCare app, a
dedicated clinical team of the hospital looks at the collected data of each individual patient. If necessary, the medical team will connect with the patient. This innovation of care will reduce the number of visits to the hospital and improves the quality of care.
Due to their diseases some patients are less physical mobile. In their case, visiting the hospital can be stressful. Using virtual consultation is the practical solution to prevent a visit to the hospital. Moreover, remote monitoring provides confidence and reassurance to the patient and the technology enables Al-Mishari Hospital to keep a close eye on their patients. The initial phase enables the project team to further build on the ARMeCare App, where patient and end-user engagement are of high priority for Al-Mishari.
Patients can regularly enter their data into the app at home, in an accessible way. This includes, for example, blood sugar (glucose) measurements, blood pressure, body weight, and adherence to a healthy lifestyle and overall well-being. In case new health problems arise, or if additional medication is needed, a nurse contacts the patient by phone and assesses the situation of the patient. If necessary, a call or video consultation with the attending physician, a referral to a medical specialist is scheduled, or a visit to the emergency room is arranged.
ARMeCare App user Aljohra: 'I have been using the ARMeCare app for a few weeks now and I am positive. It's easy to use and in addition to communicating measurements, it also addresses things like nutrition and health awareness with customize education information.'
The ARMeCare app is developed in collaboration with Spectator Healthcare Technology, a Dutch IT company with over 15 years of experience in the development and worldwide commercialization of cutting-edge video control and service center technology, for a wide variety of applications in Security, Healthcare and Communications.


About Dr. Abdul-Rahman Hospital
It is a community of care and a place that you can visit and stay in until you improve, which enables you to return to your home or workplace with renewed strength, confidence, and hope in your heart that they are ready to take care of you in a professional, compassionate, and practical way.
We have been at the heart of the Saudi social welfare system for more than 33 years, and we have achieved the highest medical standards in the services we provide. We are a family that operates a hospital for one of the earliest institutions in the Kingdom. An institution that was founded by a man who really cared for all people, and whoever knocks on our door, our message is clear: you are welcome here, whatever your problem, whoever you are.