Spectator Healthcare Projects
16. March 2020
Spectator Healthcare Technology
Telemedicine solutions
Spectator Blog
Healthcare
Launch New COVID-19 Epidemic App
Spectator launches the COVID-19 Epidemic Information & Communication App A rapid deployable medical call centre solution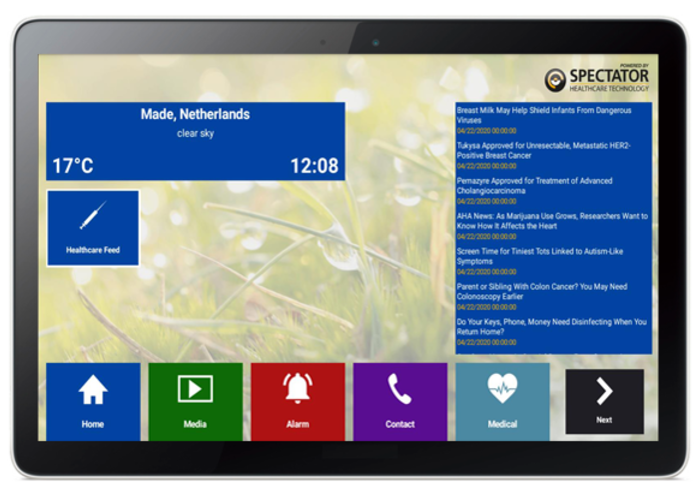 Spectator Healthcare Technology launches a rapid deployable call centre solution with Telehealth technology for Healthcare providers who are facing COVID-19 Coronavirus problems.
Based on proven technology, the Spectator eHealth & Telecare Communication Platform communicates with a white-labelled and multilingual COVID-19 Epidemic Information & Communication App, which allows Healthcare providers to start within a few days a modular and easy scalable solution as one Digital Gateway.
The COVID-19 Epidemic App provides all registered users easy access to validated medical information, including self-triage, based on dynamic links that can be adjusted and updated by the respective Healthcare provider at any time.
With a simple push on the button the COVID-19 App allows all patients to have a Video tele-consult 24/7 and immediate access to the Spectator eHealth & Telecare call centre, staffed with local and remote Health professionals such as nurses, physicians or specialists.
The Spectator eHealth & Telecare call centre is a Single-Point-of-Access for all Healthcare providers, caretakers and individuals, independent of age, gender, race, religion, social status and geographical location.
The connection to the Spectator eHealth & Telecare call centre allows also optimal (remote) communication for Health professionals, such as multi conference calls and call transfers, with real-time access to patient data, health status, demographics and other relevant information.
Spectator solutions support Healthcare providers worldwide to identify and guide COVID-19 infected persons, to reduce the further spread of the virus and to communicate and monitor admitted and non-admitted patients remotely.
The COVID-19 Epidemic App can be made available to individuals and patients in the Appleand Android app stores.